In the world of e-commerce, having a well-designed and user-friendly website is essential for the success of your business. Currently, the two popular platforms that provide you with the ability to create and manage their online stores effectively are Wix vs Shopify. While both platforms offer a range of features and customization options, they still differ in terms of their target audience, ease of use, pricing, and scalability. In this blog post, we will compare Wix vs Shopify to help you get a complete and thorough knowledge of them before choosing the right e-commerce platform for your business.
What are the criteria for choosing a good e-commerce platform?
When selecting an e-commerce platform, several criteria should be considered to ensure you choose the right one for your business. Here are some essential factors to consider:
Ease of Use: Look for a platform that offers a user-friendly interface and intuitive tools, allowing you to easily manage and customize your online store without extensive technical knowledge.
Design and Customization: Consider the platform's design options, including the availability of attractive templates and the ability to customize the look and feel of your store to align with your brand identity.
Payment Options: Check if the platform integrates with a wide range of payment gateways to offer convenient and secure payment options for your customers. Look for compatibility with popular options such as PayPal, Stripe, or other regional-specific gateways.
SEO Friendliness: Consider the platform's built-in SEO features or its ability to integrate with third-party SEO tools. This will help optimize your store for search engines, improve visibility, and drive organic traffic.
Security: Security is critical for any e-commerce platform. Hen, you should look for platforms that offer SSL certificates, secure payment gateways, data encryption, and regular security updates to protect your customers' data and ensure a secure shopping experience.
Wix vs Shopify: Background
Wix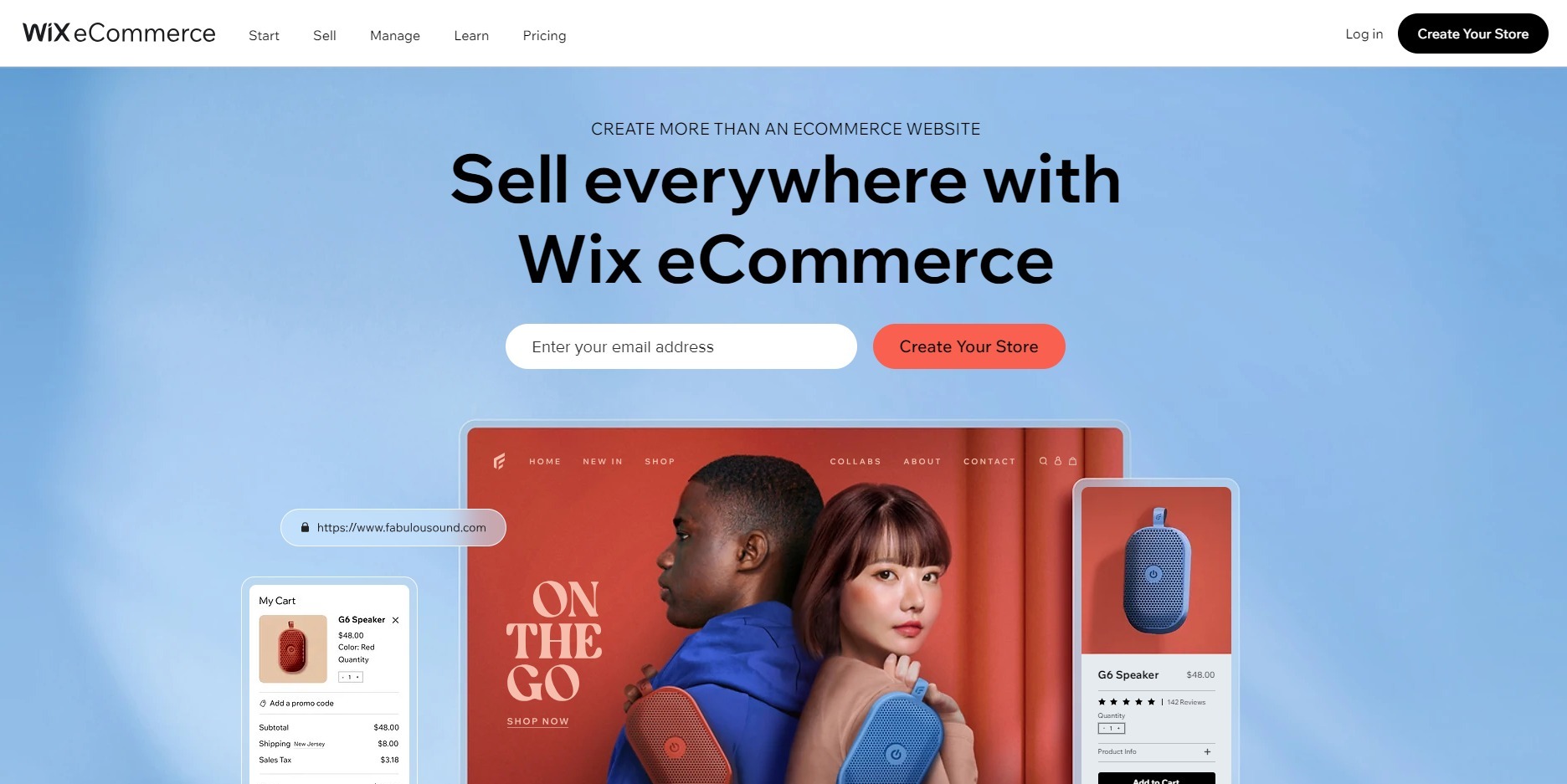 Wix is a cloud-based website development platform that allows users to create and customize websites without the need for coding knowledge. It was established in 2006 by Avishai Abrahami, Nadav Abrahami, and Giora Kaplan, to provide an accessible and intuitive solution for individuals and businesses to build their online store.
The platform gained popularity for its drag-and-drop editor, which revolutionized website building by enabling users to design visually appealing websites with ease. Wix offers a wide range of customizable templates and a user-friendly interface which is accessible to users of all skill levels.
Shopify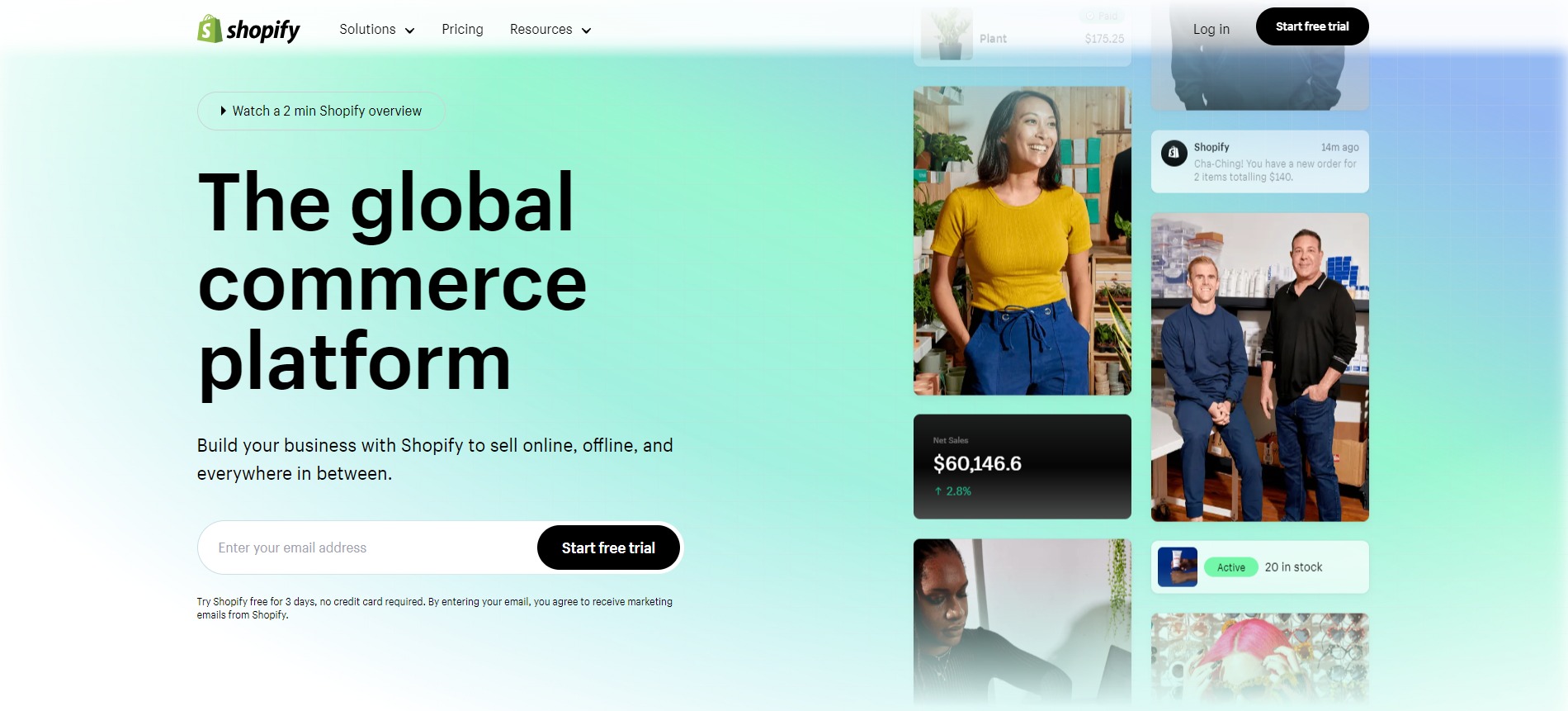 Shopify also was introduced in 2006 by Tobias Lütke, Daniel Weinand, and Scott Lake with the goal of providing a seamless and accessible platform for businesses to establish and manage their online stores. It started as an online snowboard store called Snowdevil, but the founders soon realized that the existing e-commerce solutions were inadequate and decided to build their own platform.
This platform has become a trusted e-commerce platform and helped a lot of businesses achieve success in the online marketplace. Besides that, with its user-friendly interface, comprehensive features, scalability, and dedicated support, Shopify offers an all-in-one solution that enables entrepreneurs and businesses to create and manage their online stores with ease. Whether you're a beginner or an experienced e-commerce professional, Shopify provides the tools and resources necessary to thrive in the digital world.
Wix vs Shopify: Key differences
Ease of use
Wix vs Shopify especially have been designed to be user-friendly, but that doesn't necessarily mean they are extremely easy to use. In order to determine which one is better for your needs, we will help you know how each platform evolved.
Wix is renowned for its intuitive drag-and-drop website builder, which makes it user-friendly for beginners and for those who don't have coding knowledge. All you need to do is choose your favourite template from Wix's pre-built template library. Then, you only need to customize your website by simply clicking and dragging elements into your favourite place. Besides that, Wix gives you more control over the placements of content elements on your web page and easily adjusts the layout as you want.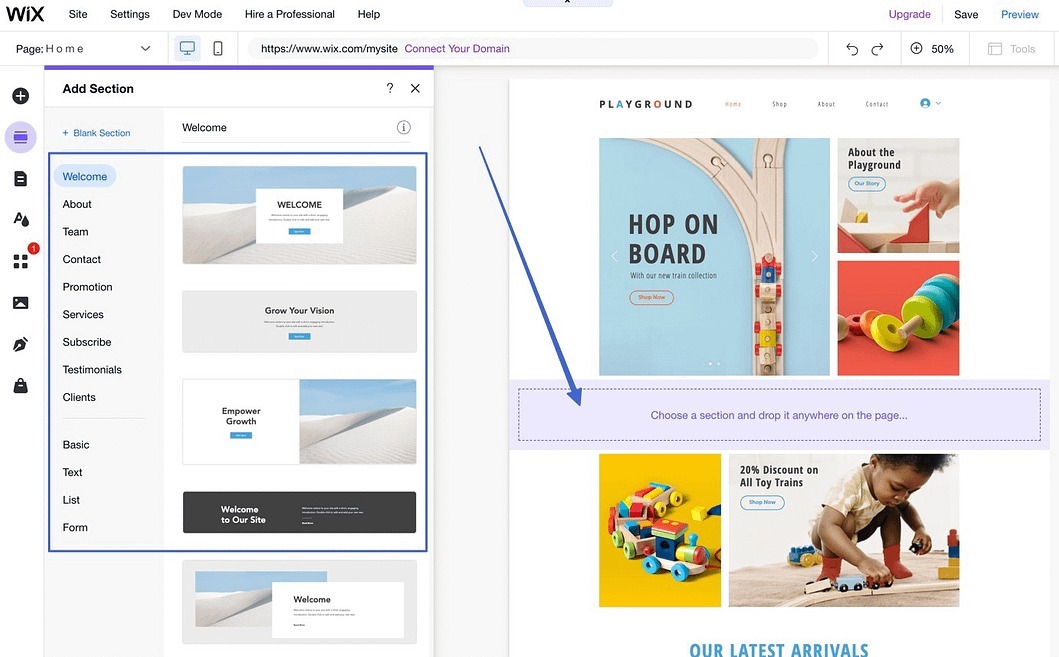 In contrast, Shopify provides a streamlined setup process specifically designed for creating online stores. Although it may have a steeper learning curve compared to Wix, Shopify offers step-by-step guidance and prompts to help users set up their stores quickly and efficiently. Shopify offers a range of customizable themes tailored for e-commerce. Users can select a theme that suits their store's aesthetic and brand identity, and then customize various elements such as colors, fonts, and layouts. While Shopify's customization options are not as extensive as Wix's, they still offer sufficient flexibility for most e-commerce needs.
Additionally, Shopify helps you simplify the process of managing products in an online store. Because the user interface of Shopify provides you with clear sections for adding and editing product details, organizing inventory, setting pricing and variations, and managing orders. As a result, it is easy for you to control and handle product-related tasks efficiently.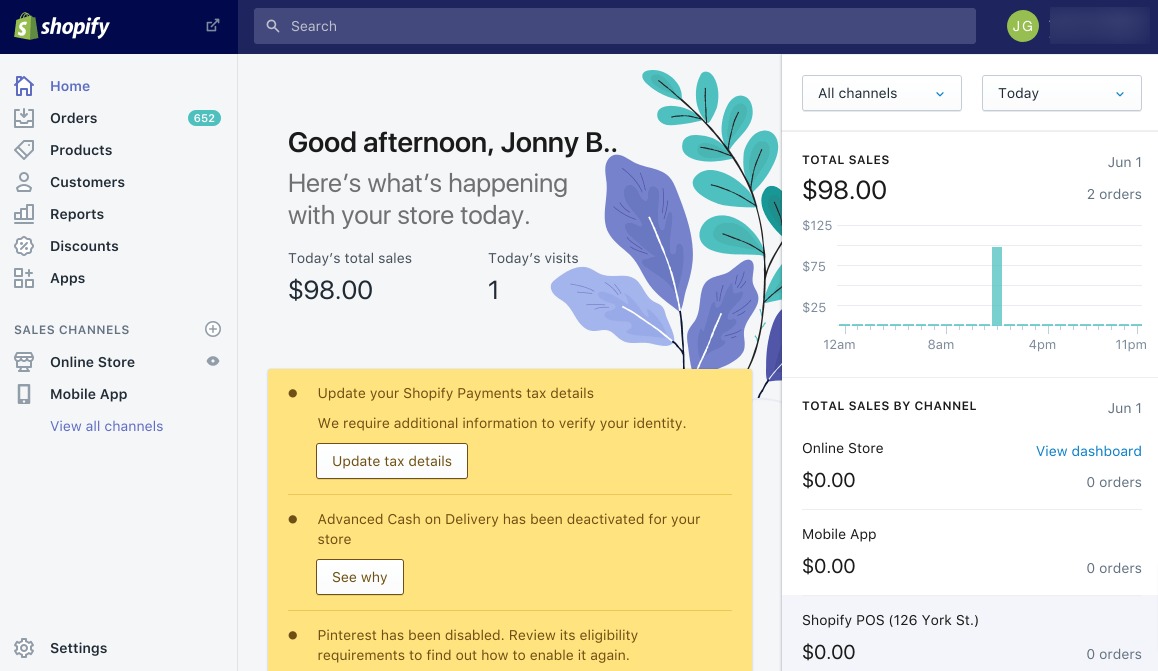 Both Wix vs Shopify excel in terms of ease of use, but they cater to slightly different user preferences and skill levels. Wix's drag-and-drop visual editor and extensive customization options make it an excellent choice for beginners and users who prioritize design flexibility. On the other hand, Shopify's streamlined store setup and specialized e-commerce features, so it will be easier if you are going to build an online store.
Design options
Wix offers over 800 pre-made templates that cover various industries and niches. Hence, it is not difficult for you to find a beautiful design that suits your brand and preferences.
As we mentioned above, Wix's drag-and-drop visual editor allows you to customize your website with ease. You can modify every aspect of your website from the header and footer to individual page layouts without writing any line of code. Additionally, Wix's App Market provides a wide array of design-focused apps that can enhance your website's functionality and appearance.
Especially, if you don't want to customize by yourself, you still have the option to utilize the Wix Artificial Design Intelligence (ADI) editor instead. By using Wix ADI, you just need to respond to some queries about the intention of your site and its fundamental visual choices, like the font styles and colors, and Wix ADI will create your website for you.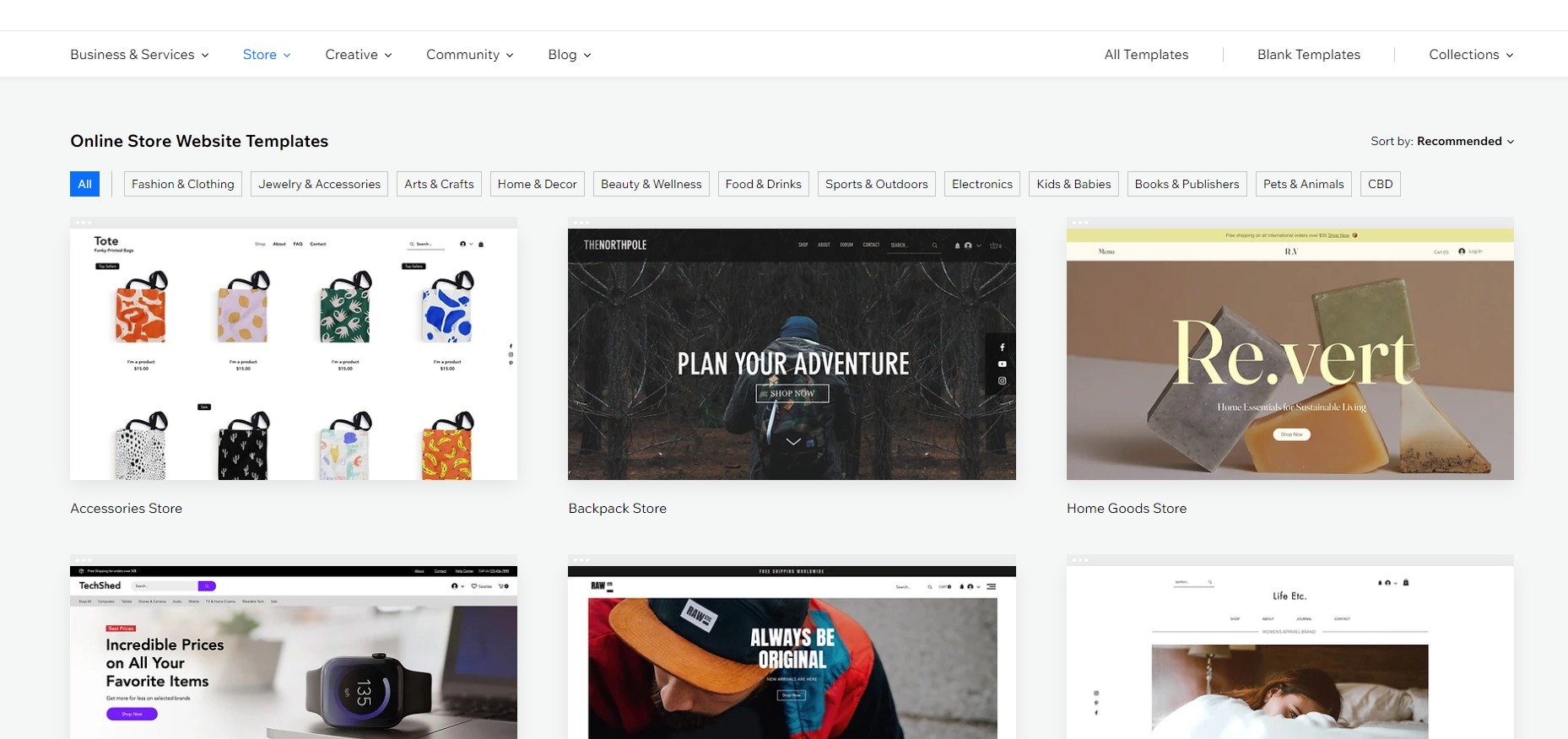 Shopify provides a selection of professional themes specifically designed for e-commerce. These themes are optimized for showcasing products and ensuring a seamless shopping experience. While the number of themes available on Shopify is smaller than Wix, they are generally more focused on e-commerce functionality. In addition to the free themes, you need to pay from $150 to $350 to access their premium themes.
Despite the fact that you may not have the same level of design freedom as Wix, Shopify's themes are thoughtfully designed with e-commerce best practices in mind, which ensure a visually appealing and user-friendly online store. Further, most of Shopify's themes are designed to be mobile-responsive by default. Hence, your online store will automatically adapt and display properly on different devices and provide a greater experience for mobile shoppers.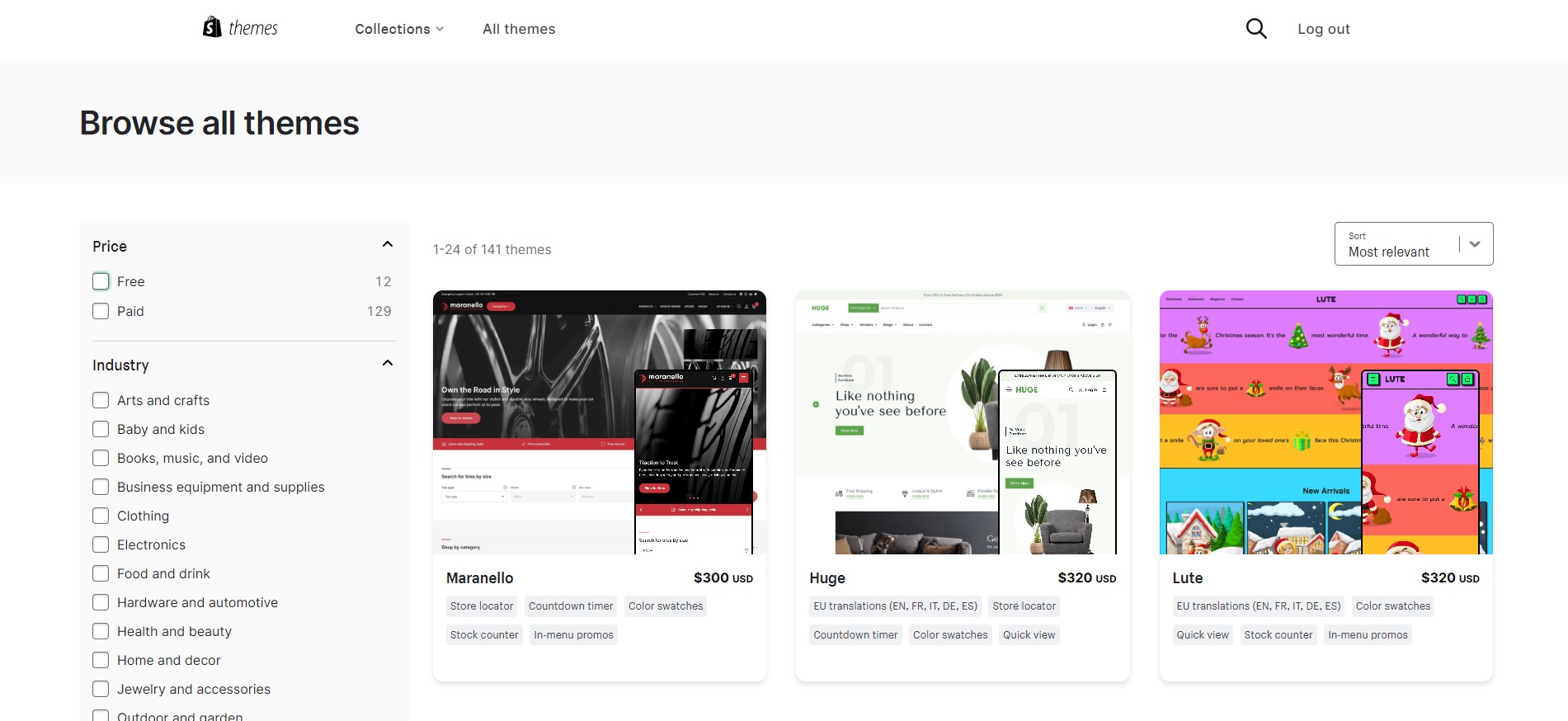 It can not be denied that both platforms offer a range of features to help you easily customize the appearance of your website. However, in this section, Wix clearly outweighs Shopify in the number of pre-built themes. In addition, Wix provides greater flexibility compared to Shopify in terms of design.
App Market and Integrations
Wix's App Market comes with a wide range of useful apps and integrations including different categories such as marketing, social media, services & events, media & content, and much more. Although the number of Wix apps is not as large as the number of integrations offered by Shopify, Wix covers a wide range of popular integrations.
In addition, Wix's integrations are primarily built by the Wix team or approved third-party developers. While there is a decent selection available, it may not have the same level of depth and specialization as Shopify's ecosystem.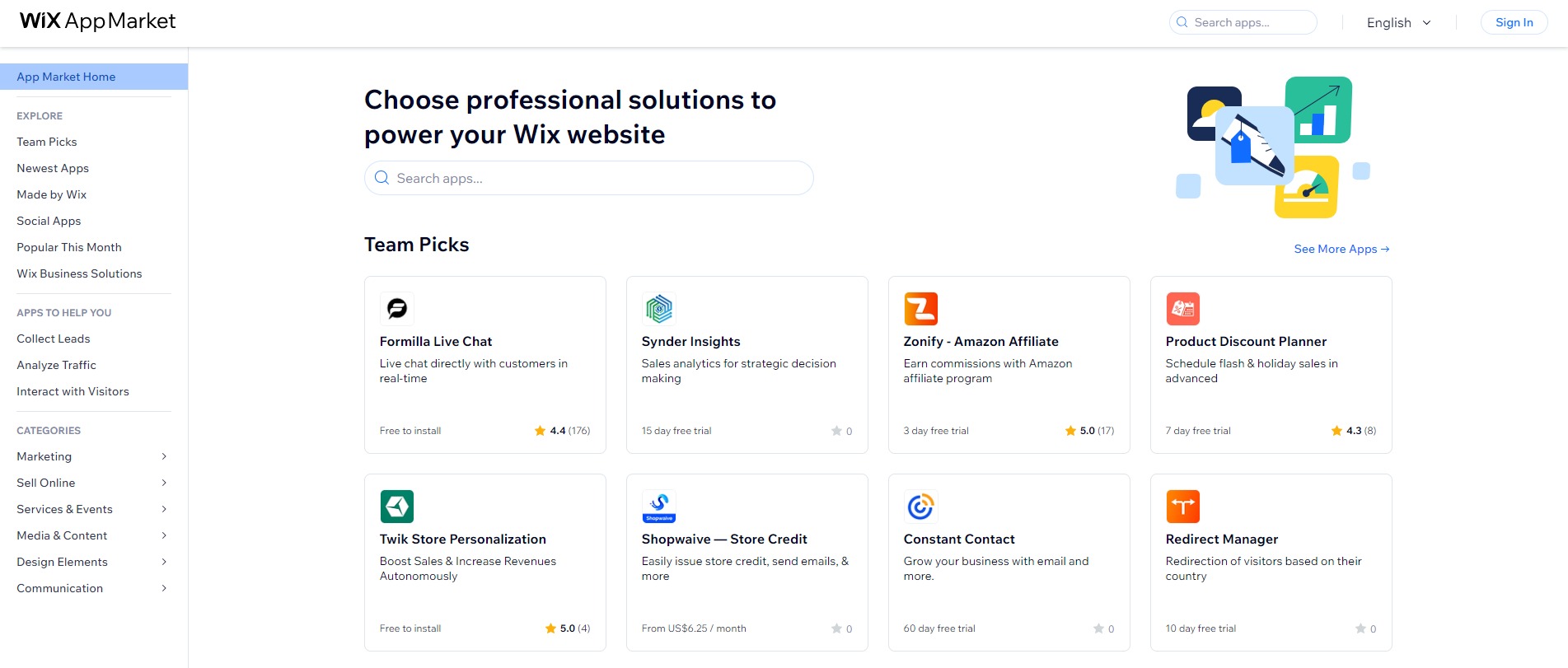 On the contrary, Shopify offers over 6,000 integrations that also cover plenty of categories like marketing, sales channels, customer support, analytics and much more. The depth and specialization of integrations in the Shopify ecosystem are particularly advantageous for businesses focused on e-commerce. Therefore, you can take advantage of these helpful integrations to extend the functionality and scalability of your online store. Some outstanding integrations such as UpPromote Affiliate Marketing, Facebook Channel, AfterShip Order Tracking & SMS, Trustpilot Reviews, TikTok, Klaviyo Email Marketing & SMS and much more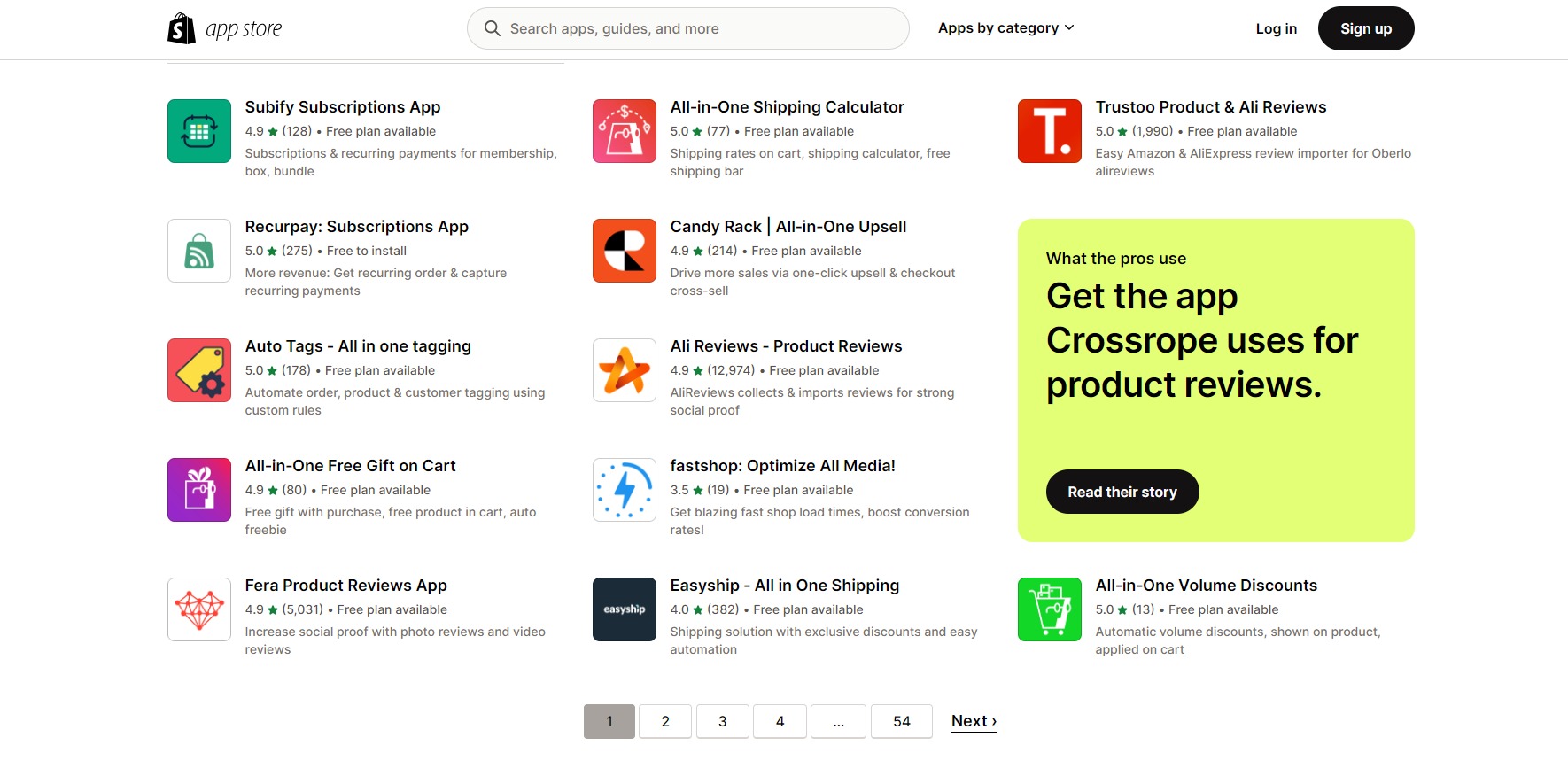 Email marketing tools
Wix provides you with an email marketing tool called Wix ShoutOut that lets you create and send newsletters, promotional emails, and other campaigns. Additionally, this tool supports many basic automation features such as sending automated welcome emails, abandoned cart reminders, and birthday greetings. The price for Wix email marketing ranges from $10/month to $49/month for 500 -1,000,000 marketing & automated monthly emails.
Shopify also offers its own email marketing tool which allows you to design and send branded email campaigns. You are able to send 10,000 emails per month for free, with $1 free applying to every additional 1,000 messages you send. Besides that, there are a lot of powerful features to manage your contacts such as importing contacts and tracking customer information.
What's more, this platform provides detailed analytics to monitor the performance of your email campaigns, such as open rates, click-through rates, revenue generated, and conversion tracking. Thanks to that, you can have a comprehensive overview and create more effective email marketing campaigns for your website.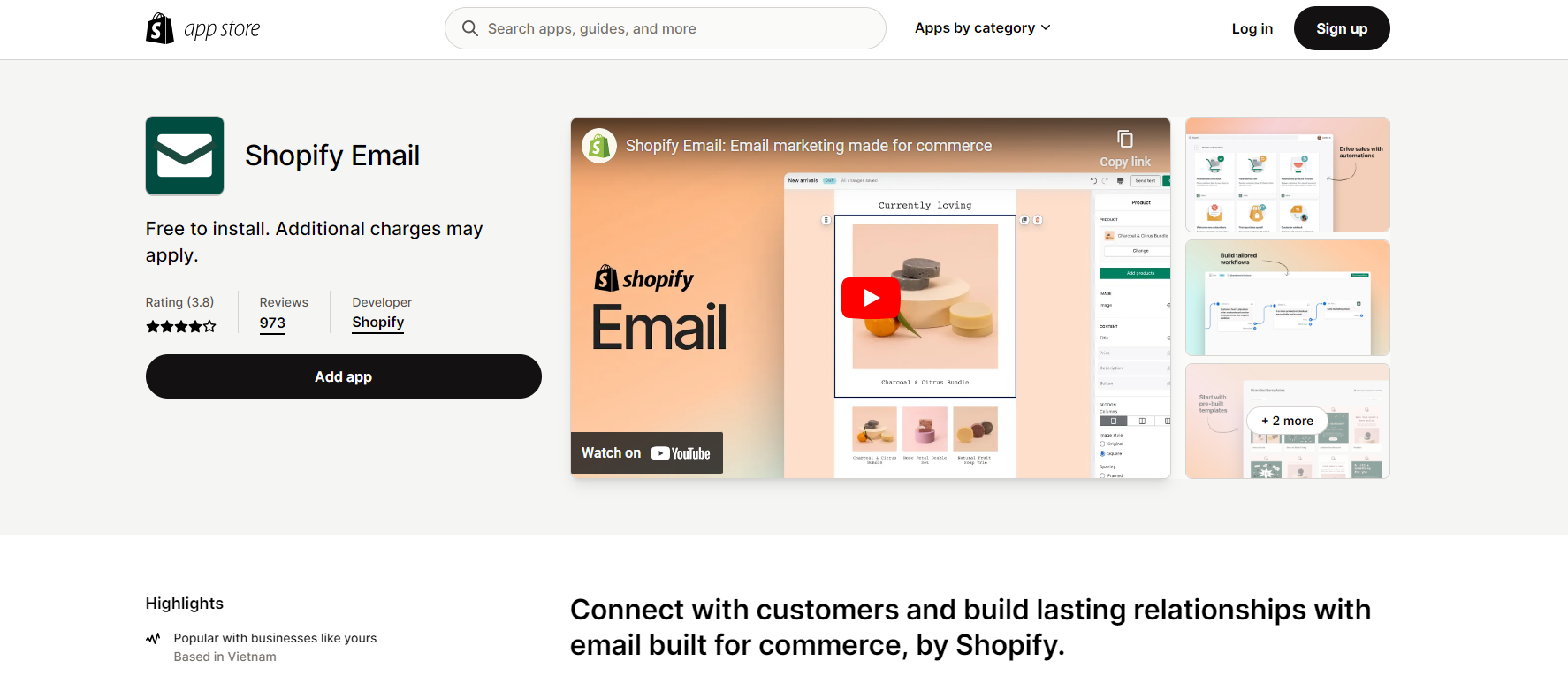 Notably, Shopify has a wide range of integrations with third-party email marketing apps and services, so it offers more flexibility to connect with popular tools like Mailchimp, Klaviyo, and Omnisend.
Both Wix vs Shopify offer email marketing tools, but Shopify provides more advanced features and integration options than Wix. Moreover, the number of free emails per month that Shopify allows you to send to your subscribers is absolutely higher than that of Wix. Hence, in this round, we have to admit that Shopify is the winner.
Payment Gateways
Payment gateways are essential for e-commerce websites that help you easily facilitate online transactions. Let's compare Wix vs Shopify in terms of payment gateway options:
Wix provides you with its own payment gateway, which lets you accept directly on your website via credit cards, debit cards and PayPal. Also, Wix integrates with plenty of third-party payment gateways such as Stripe, Square, Authorize.Net, and Braintree. These integrations provide additional payment options for your customers.
Shopify also allows you to accept credit card payments on your Shopify Store via Visa, Mastercard and American Express. Furthermore, Shopify integrates with 105 third-party payment gateways, which is a bit more than Wix's offering, with 102 integrations.
The biggest difference between Wix vs Shopify is that Wix does not impose any charges when you use a third-party payment gateway whereas Shopify charges transaction fees for using such gateways. The transaction fees depend on your Shopify plan, ranging from 0.5% to 2% per transaction. When you use third-party payment gateways of Shopify, transaction fees are determined by the gateway provider.
Support
Both platforms offer different assistance options such as real-time chat, and email. Wix's support is available from Monday through Friday between 5 a.m. and 5 p.m. Hence, customers' questions will be handled within 24 hours. Whereas Shopify offers true 24/7 live support via email, chat and telephone.
Additionally, each platform is packed with a collection of valuable knowledge base recourse that helps you easily handle your problems during the process of building your online store. Another way to get assistance with Shopify is that you can also ask questions in the community forums where there are 900,000 members.
Besides that, if you use the Shopify platform, you can get support in more languages ​​(21 languages) than Wix's 12 languages. However, the disadvantage of Shopify is that its support materials don't include any screenshots, which makes them a little less clear and thorough than Wix's.
Pricing plans
At the time of writing this blog, Wix provides three pricing plans for E-commerce websites including:
Business Basic: This plan costs $17 per month (billed annually) and includes features such as a free domain for one year, online payments, unlimited bandwidth, 20 GB of storage, and 5 video hours.
Business Unlimited: Priced at $25 per month (billed annually), this plan offers all the features of the Business Basic plan, plus additional benefits like 35 GB of storage, professional logo creation, social media logo files, visitor analytics, 10 video hours and more.
Business VIP: This plan costs $35 per month (billed annually). It includes all the features of the Business Unlimited plan, along with 50 GB of storage, priority response, VIP support, a professional site review and unlimited video hours.
It's worth noting that Wix also offers a free plan with limited features, but it displays Wix advertisements on your website and doesn't support custom domain connections. If you require more advanced e-commerce functionality or additional resources, it is necessary to upgrade to paid plans in order to get a better experience.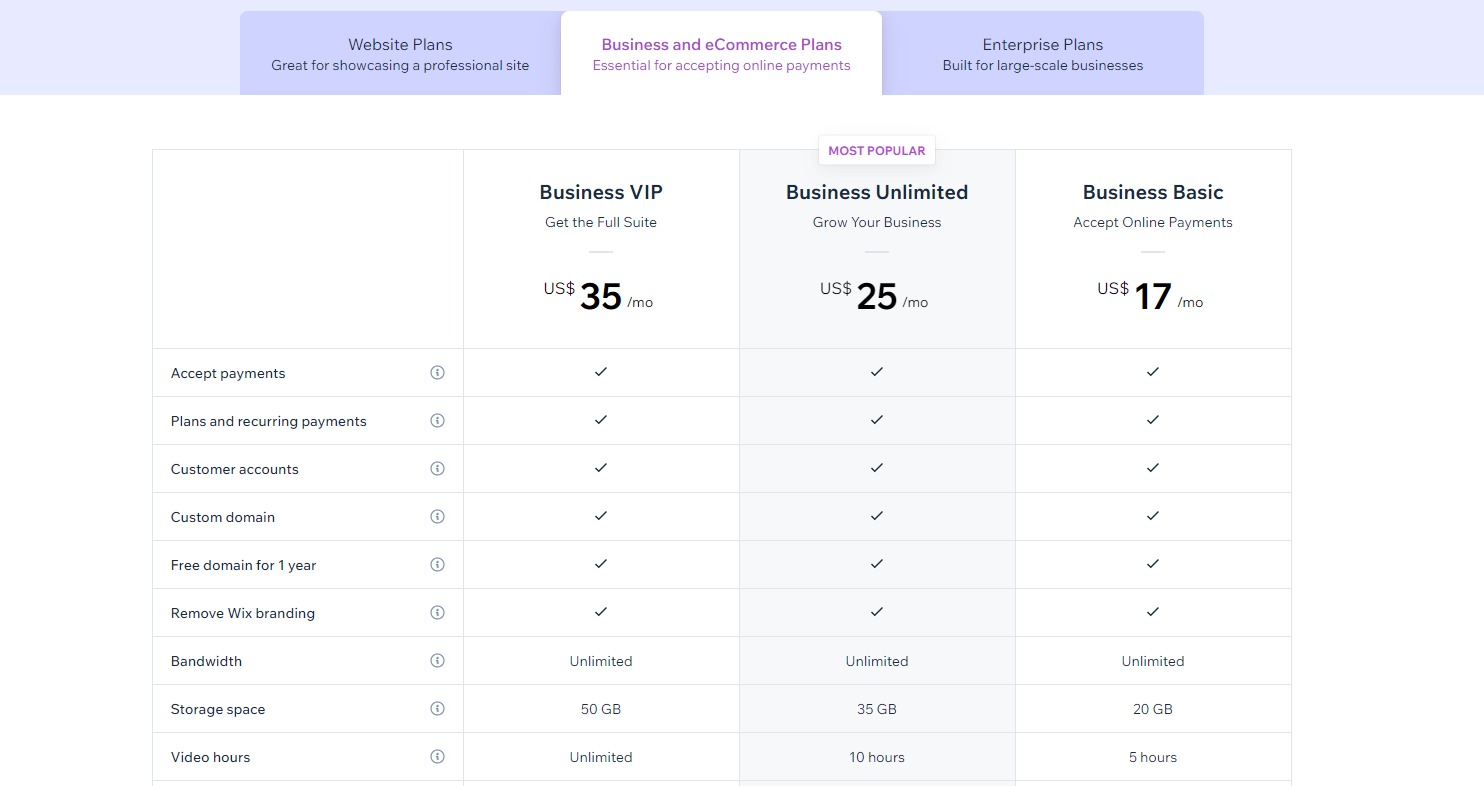 While Wix has slightly more affordable plans than Shopify, Wix still has some limitations in their pricing plans. For example, e-commerce plans limit the amount of storage that you can use to 20GB, 35GB, and 50GB. In addition, they also limit the number of video hours you can upload.
On the contrary, Shopify gives you unlimited storage, bandwidth and website pages on every plan. You can choose from three flexible packages:
Basic Shopify: $25 per month
Shopify: $65 per month
Shopify Advanced: $399 per month
Besides, You will get a 14-day free trial when you first sign up for Shopify regardless of whether you choose a plan or not. You completely can sell your products during the free trial. After your 14-day trial is over, it will require you to upgrade to a Shopify paid plan to continue using the platform.
Wix also has a free plan, but it has very limited features and its ads will be shown on every page of your website. Thus, in order to determine which platform offers more value, you need to consider the e-commerce features provided by each platform.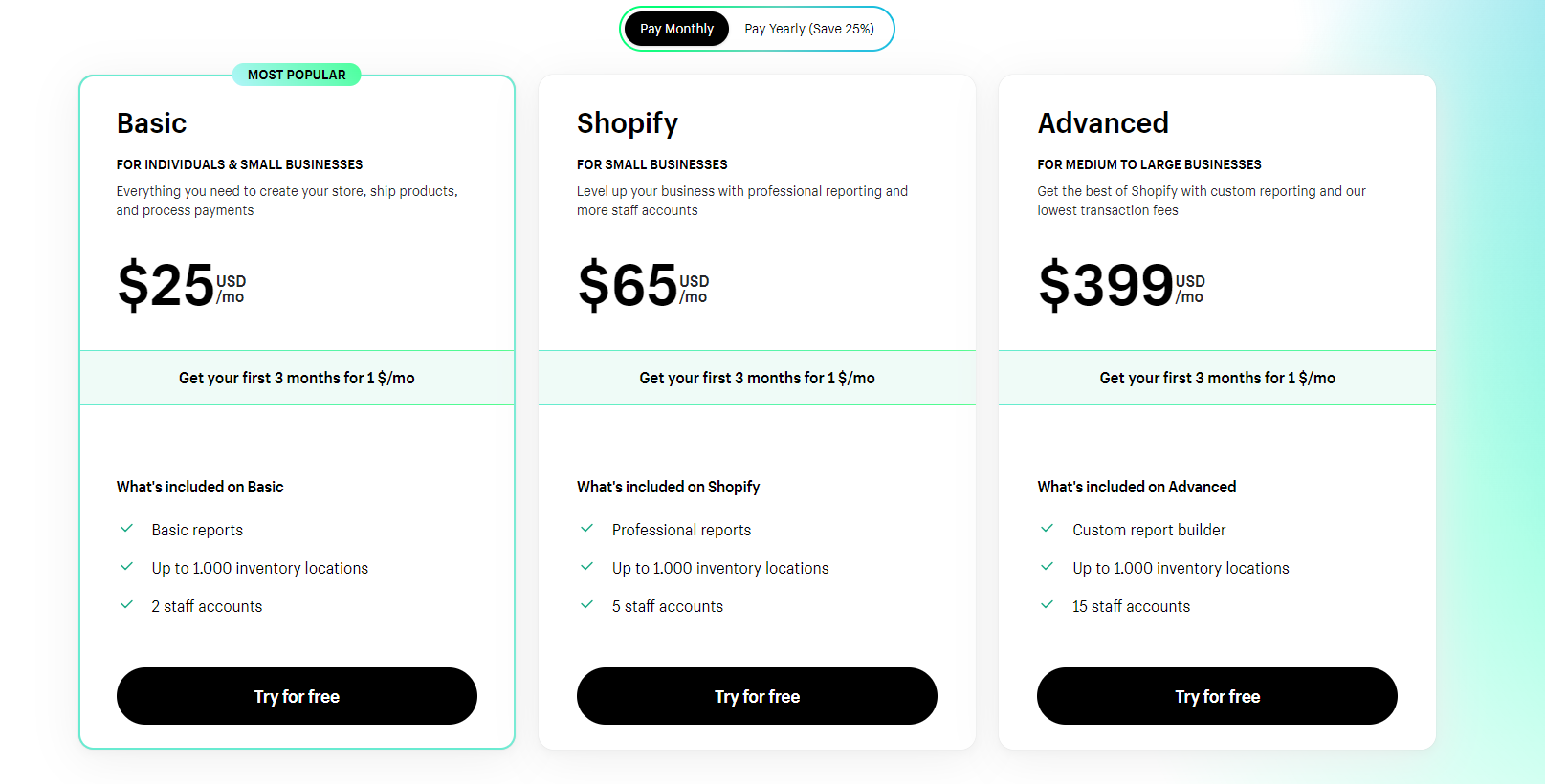 Pros and cons
Wix
 Pros
 Cons
Intuitive and drag-and-drop interface

Lots of help and support

200+ App integrations available

Easy to use

Doesn't charge transaction fees for third-party payment gateway

Get a free domain name if you pay upfront for a year's service

Templates not interchangeable

The free plan forces Wix branding

Premium Plans are single-site only

Ads on Free Plan

Depend on Wix as it is a hosted platform

Scalability Limitations
Shopify
 Pros
 Cons
Support in multiple languages

A variety of storefront themes selection

A vast app store with plenty of plugins and extensions

Multiple payment gateways

Security and Reliability

Allow you to check out in various currencies

Easy to import and export content and product

Limited Design Customization

Dependency on third-party apps

Complicated Data Portability

SEO limitations

Transaction Fees
Wix vs Shopify: Which one is better?
To conclude, both Wix vs Shopify are great and trusted platforms to help you start building a professional online store. However, it is really difficult to decide which platform will be better for your website. Because it depends on your specific requirements and how much e-commerce experience you have.
We highly recommend using Wix as an affordable choice if you are looking for an easy-to-use platform and don't sell a huge number of products.
On the other hand, if you need to build a professional e-commerce website that specializes in selling a large of products, then using Shopify is a smart selection. In addition, Shopify has plenty of advanced features such as POS options, multi-currency selling functionality, dropshipping feature and much more, so it is suitable for businesses that need sophisticated options to build an online store.
What's your opinion? Do you like using Wix or Shopify? Let's leave your point of view in the comment below. In addition, if you are going to use Woocommerce, let's read Wix vs Woocommerce comparison.
By the way, if you are seeking a beautiful e-commerce theme to build your online store, don't miss a collection of free E-commerce WordPress Themes on our website.